celebrate and support artistic integrity and creative spirit
Call for Entries
October 1 – November 30, 2013 - Strong Stitches – Friendship, Cooperation & Uniforms
A juried fiber arts exhibition fortified with creations that reveal the strength and love of admirable association, working together, and apparel that reinforces unity and identity. Durable and mutual attachments form through the crafting, wearing, and sharing of fiber works. These bonds are built through quilting bees, life-altering occasions, community charity causes, and teaching how to sew on a single button. Between wearable to wall hanging, the Strong Stitches exhibition is open to all fiber arts media.
Deadline September 1, 2013
The exhibition is a component of the 2013 North Olympic Fiber Arts Festival at the Museum & Arts Center in the Sequim - Dungeness Valley, 175 West Cedar St. Sequim WA 98382 macsequim.org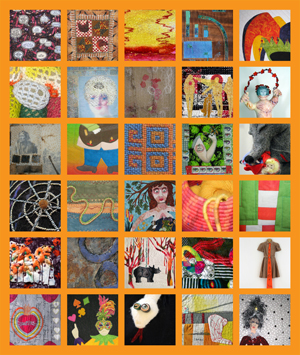 October 2 – 27, 2012 Long Yarns - Fiber Art Stories, Fables & Lessons
A juried fiber arts exhibition recounting and revering the tales fiber can reveal, with morals, legends, and myths as the influential yarn twists. The stories may be personal, filled with historical encounters, or fairy tales designed to reveal the hard work behind creative and clever craft. Tall tales filled with characters that have idealistic goals, unrealistic demands, and stubborn natures can be illustrated and brought to life through threads and fluff.
Long Yarns - Fiber Art Stories, Fables & Lessons with Stella Belikiewicz, Martha Bluemel, Renne Emiko Brock-Richmond, Margaret Crayton, Lindy Feigenbutz, Marijane Figg, Susanne Foster, Nancy Gamon, Pamela Hastings, Barbara Houshmand, Paula Ice, Susan Kroll, Linda Laird, Ellen Olga Lloyd, Sierra Montoya, Sherry Nagel, Kathy Nida, Sue Nylander, Patricia Oden, Betty Oppenheimer, Leslie Pearson, Elena Miranda Radock, Frances Rice, Roz Ritter, Genevieve Sampson, Merrie Jo Schroeder, Gloria Skovronsky, Tammy Sutherland, and Stephanie Swensson.
Questions? Please email Renne at fiberartsfestival@gmail.com
Curious about the upcoming themes?
2013 - Strong Stitches – Friendship, Cooperation & Uniforms

2014 – Parallel Patterns – Significant Schemes, Seams & Symbols
2015 - Fostered Fiber – Remembrance, Remnants & Mentors